Thursday, January 19, 2012
Do you like this story?
It's Time to Mingle!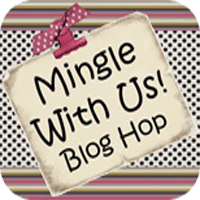 Hosted by
Happy Go Lucky
,
I Heart Crafty Things
,
Joy in the Jumble
and
Keeping Up With Kristi
.
Each week we will choose one blog at random to spotlight at the next week's blog hop.
This weeks guest host is
Posy the Porcelain Pig
There are no rules to this blog hop. Just link up your blog's main page. Then have fun reading new blogs and making new blog friends. We would love for you to follow the hostesses in the first four spots and our guest host in the fifth spot. We always follow back!!
Please leave a comment so we know to follow you back!
This week we have a special surprise for you!! Kristi is sponsoring a FABULOUS giveaway. She will be giving away a copy of the book Heaven is For Real by Todd Burpo to one lucky blog who links up and follows all 5 co-hosts. I've been wanting to read this book!
So happy blog hopping! We hope you have fun with us!!
Grab our button if you want to share our blog hop with others. There will be a new list every Thursday, so be sure to come back every week. Also, if you are interested in hosting a giveaway for our blog, please email any one of us. We would love to have you!!
We hope you have fun and thanks for joining us! We are so excited to find new blogs, share great ideas, and inspire each other.
This post was written by: Franklin Manuel
Franklin Manuel is a professional blogger, web designer and front end web developer. Follow him on Twitter